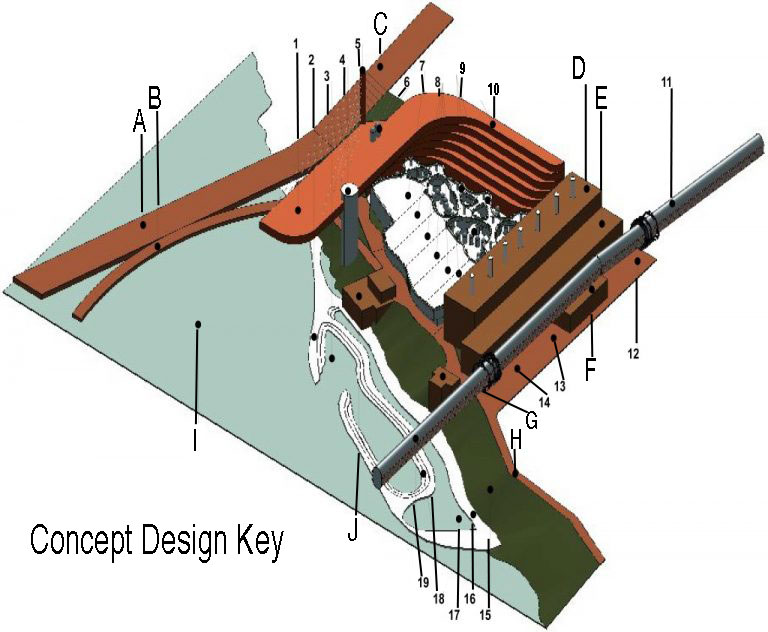 The city of Edmonton was looking for ideas on how to develop the Old Rossdale Power Plant building and Riverwalk district. Our concept was to create a Mixed-Use Project with a new connectivity to existing Rossdale residential communities and to new developments in Rossdale West and the Provincial Government Centre.  A New cross-river pedestrian walkway would connect to the north shore river valley trail.
Some Featured Elements would include:
The North Saskatchewan Riverwalk — The goal would be to create a vibrant Riverwalk with trails, River Craft boats  and a  new Walterdale Bridge pedestrian link and to Kinsmen Sports Complex and southside parks.
A Water-craft Clubhouse with open membership to a clubhouse that includes a social gathering pub, restrooms, offices, view-patio decks; mill-shops for building hand-powered watercraft; launch facilities.
The Rossdale Power Plant Building – The building would be centered around a Craft Brewery theme with a Fruit Winery, Cider Distillery and Meadery.  Glass-enclosed through-passages that connect various building elements with other venues (e.g. handcrafted art emporium with holographic theatre) restaurants a bakery a  –
A Test Kitchen — a fully operable commercial test kitchen that can be rented out to restaurants (weekly TV shows featuring chefs and restaurants about Edmonton)
A Hologram and video recording studio – enabled performance venue (morning — venue for pre-schoolers and elementary grades; afternoon — venue for junior/high schoolers; evening performance studio with bar for adults; capability for TV productions).
The BrauHaus — a multi-room facility that picks up on the social aspects of the Austro-German Gasthaus; on the English, Irish and Scottish Pub; on the Indian Gastro-Pub; and the Western Saloon
A Bakery using spent fruits, grains, and produce from distilling and brewing processes to create edible products for both onsite consumption and offsite exportation
Art Galleries – Display art reproduction and manufacturing elements including glass blowing foundry, pottery kilns, metal forming oasts, float glass art beds and forming pools.
SaveSave
SaveSave